Porn is the actual worst…  but for reasons you would expect. Sure, some people think that porn is awful and degrading towards women and in some aspects, they're correct. Some porn lives out a fantasy of violence towards women, and you're right, that sucks… but it also doesn't mean that all porn is bad. For however many clips of distasteful porn you've come across, know that there are even more sites geared specifically towards women and what they find arousing. The porn industry is not without it's problems, but given how expansive the world of porn is and how awesome masturbation is, my issue with porn is that you don't know where to start. Watching porn is not the most care-free liberating experience either.
Until we can regularly see and are willing to discuss women as consumers of porn (tbh the only example I can think of is Ilana from Broad City) the way that we are able to normalize men as consumers of porn, there's always going to be some sort of shame and secrecy surrounding our porn habits. Yes, I said "our." I occasionally watch porn, nbd, because it shouldn't be a big deal.
I know we're not supposed to talk about it because porn is "dirty" and none of us want to be dirty, we want to be "good," whatever that means, but I'm going to talk about it anyway. So long as you aren't addicted to porn or dependent on it to get off, it's perfectly legal to purchase porn if you're 18. There's very little you can do other than unfollow to get porn off your Tumblr dash though, so sorry about that one. If you watch porn, too, you know how watching porn has it's own share of difficulties, so here are the top 21 reasons why porn is the actual worst.
1) Your introduction to porn was probably by accident.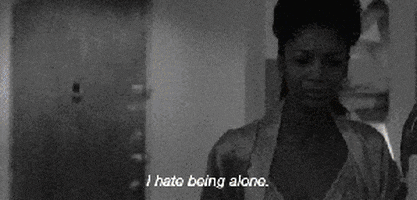 It used to be that you had to buy porn magazines or movies from sex shops. Those days are long gone, now you can just accidentally follow the wrong Tumblr blog, then bam! It's on your dash! Didn't see that one coming.
2) Porn gave you some unrealistic expectations about sex from the get-go.
To be honest, I get how that could suck, but porn is not intended to be realistic, it's intended to be arousing. Please don't sexually compare yourself to porn.
3) There are so many different kinds, it's hard to find something you're actually into.
If you've ever searched the categories on most porn websites, you know what I'm talking about.
4) The different terms and categories used in porn are confusing and occasionally hilarious.
Oh, that's what "cream pie" means. Cool. I see where you got that.
5) No matter what, you kind of wish the focus wasn't on the girl's o-face and boobs.
Same goes for glorifying the guy's penis. I'm sure some dicks are that special, but not all dicks.
6) Speaking of o-face, can some girl actually look like they're enjoying themselves?
I'd look equally miserable if someone bit my nipples that hard too, but I guess that's where the porn for women comes in to play. Also, porn acting is hard work, I get it. Someone is rolling a camera and you have to come on command with several other people in the room. Is it asking too much to wish for better acting?
7) Most of the time you watch it and think "would that ever feel good?" 
Pretty sure that's not how you finger *any* woman, porn.
8) Can the guys be more enthused beyond enjoying their own dick?
This is a team sport, people. You're in this together. And because it bears repeating, it'should not be not all about the dick.
9) Can gay/lesbian porn look believable?
How about you hire real gay performers and you don't make lesbians scissor all the time because that's not real. I'm aware it would put tons of fluffers out of work, but the fact that fluffers are necessary is the heart of the problem.
10) You sometimes wonder "Is this a noise real people make?"
Because it's kind of annoying.
11) The dicks in porn look so un-manageably big.
12) Yet somehow, some brave woman can make it work.
Good for you, lady.
13) Then you wonder if all guys expect you to unhinge your jaw like a snake.
Lol nope.
14) Once you find porn online you actually dig, you have to remember to have it on an incognito window or delete your history.
The paranoia is real, y'all.
15) Then, because it's only that one video you like, you get sick of it after a while and the search starts all over again.
It's like you did all that work for nothing.
16) That awkward moment when you let your porn run on your laptop, shut your bedroom door and stand in the hallway just to see how loud you can make it without people hearing you.
Or just use headphones. That works, too.
17) When it comes to actually masturbating, it's hard to find a position where you can see your laptop and also touch yourself.
It's easier for anyone with a penis to sit at a computer and jack off. Masturbating with a vagina is slightly more involved than that. Most angles hurt.
18) Porn can take an unexpected turn real quickly…
A video you could be really into now suddenly involves slapping the girl in the face, anal for no reason (and no lube! why? ouch!), and that dirty talk can be really hit or miss.
19) …which can really kill your vibe, so you have to start over again.
NOT AGAIN!
20) You try to finish before the end of the video because everything has to end with a girl taking a load to the face.
If you like that, cool. It's not my taste, personally, and it's a little annoying that it's how most porn scenes end.
21) When you're done you have that awkward moment of deciding whether or not to touch your computer to turn it off before or after you wash your hands.
Awkwardly shutting your laptop with your elbows ftw.
Which of these do you disagree with? What are your thoughts on porn? Tell us in the comments.
You can follow the author, Aliee Chan, on Twitter.
9 Ridiculous Porn Myths People Actually Believe
Follow Gurl, Pretty Please!
Facebook, Twitter, Tumblr, Pinterest, and Instagram
---